About Us
About Bath Works
Bath Works Selection Center offers products that define your home and compliment your lifestyle. Our staff strives to provide the very best combination of service, selection and satisfaction. Located in Columbus, Ohio, our newly renovated showroom has the latest designs in state of the art plumbing fixtures. Our goal is to provide the best possible atmosphere and knowledgeable guidance for you to complete your project. Whether you are simply renovating outdated fixtures or designing your dream home, Bath Works is here to serve you.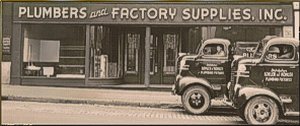 Company History
In 1932, after retiring as Adjutant General of the State of Ohio, A.W. Reynolds reorganized an old bronze foundry and plumbing wholesaler into Plumbers & Factory Supplies, Inc. as an industrial and plumbing distributor. At the time, the company was a wholesaler of tools, valves, plumbing and heating supplies. Products included Kohler plumbing fixtures, cast iron pipe and fittings, black and galvanized steel pipe, malleable and cast iron fittings, lead and lead working tools, cast iron boilers and radiators, range boilers, side arm water heaters, and water pumps. The company was located at various locations in Columbus, Ohio between Spring Street and Vine Street in the vicinity of the Union Station railroad yards, which provided the receiving destination for most inbound shipments. When the company was located at 467 N. High Street we opened the first plumbing showroom in the city of Columbus.

Today, over 80 years later, members of the 4th and 5th generations of the same Reynolds family are active in the management of the company. The family members have changed and so have the products. Today the company distributes new, modern and much improved products such as high efficient boilers, tankless water heaters, a full spectrum of plumbing fixtures, pumps, HVAC equipment and many other state of the art plumbing products. We continue to operate a showroom, as we always have, and still distribute Kohler plumbing products as well as a myriad of other high quality manufacturers. The Reynolds Family welcomes you to Bath Works, located at 2645 Morse Rd, Columbus Ohio.